Thursday, April 14, 2005
Awaiting the Judgement

The revered court will pronounce its judgement, on the feud going on between mom & dad, in eight days from now. The war between love and hatred legally culminates on April 22nd. But otherwise, is there really any end to it? Unfortunately, the situation would exist till our last breath.
Dad wins if the court grants divorce, else loses. For mom the scenario is quite the reverse. But for me it's defeat either way. I can't even show or tell mom that I am breaking from within, bcoz then she would totally collapse; and if I refrain from discussing any of these matters with mom, she gets strange ideas that I care a damn what she goes through. My dearest friends (N & NL), dad, bro, Ji - all are away from me. And my Lord won't come down to let me cry on His shoulder, though I plead with him to do so - atleast once!
Just where on earth can I go to unburden myself? Where can I go & cry, without people throwing nasty glances at me, without being told that I must stop crying, so that I run out of tears to cry anymore, for once and for all?
Hope I am not accused of basking in self-pity...this blog is all the place I have in the world...
Sending up a small prayer...
Itni shakti hamein dena daata...
Mann ka vishwas kamzor ho na...
An addition: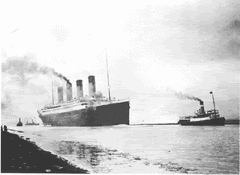 Remembering the greatest ship of all times...the ship of dreams...
RMS Titanic, which sank to the depths of the Atlantic, 93 years ago...